2016 has started out pretty great for AirConsole. Whether you missed anything or want to join us in reminiscing the Highlights of the past two months, here are the best things we've done, released or talked about so far:
Best New Games
As of the end of February, we now have a lineup of 25 games and 2 Apps, only 6 months after we launched our store with merely 6 titles. Here are our favorite new additions of early 2016:
CastleHustle
CastleHustle is a 2-5 player co-op strategy castle defense game. It's a bit more complex than most our games, which we think is fantastic. It may take a moment to understand your options, but the beautifully drawn tutorial helps with that. And there's something incredibly satisfying about figuring out the most efficient ways to load your castle's catapults with rocks in cooperation with the other players.
More...


Grannies and Planes
Grannies and Planes is a game about old ladies flying around a living room in toy planes shooting at each other. It was the first AirConsole game to be controlled by gyroscope alone, although in the meantime, Tiles of Doom has joined it. Nevertheless, G&P is a fantastic showcase for the platform: it's got a hilariously absurd setting, a cute and funny art style and very intuitive smartphone controls.
More...
Both Grannies and Planes and CastleHustle, originated as semester projects by students of the Zurich University of the Arts ZHdK, where our game designers Martina and Alice studied as well. We've gotten fantastic titles from the students and are looking forward to more collaborations with ZHdK in the future.
Karaoke
Much like our
Youtube Jukebox
, where you can create a playlist together, the AirConsole Karaoke Machine is more App than Game.
Sing a duet with your favorite artist, record yourself singing songs in languages you don't understand or practice your dramatic rendition of "Let it Go". The possibilities are endless.
More...
FriendsQuiz
FriendsQuiz, where you have to guess your friends' answers to personal questions, is a game to form bonds and ruin them. We're not surprised it quickly turned out to be one of our most popular titles.
More...
Events
Ludicious
This January, the Zurich Game Festival Ludicious took place for the second time. Since its location is basically just around the corner from our office (okay maybe three corners), we had to be there of course. And we brought our AirConsole Party Mobile.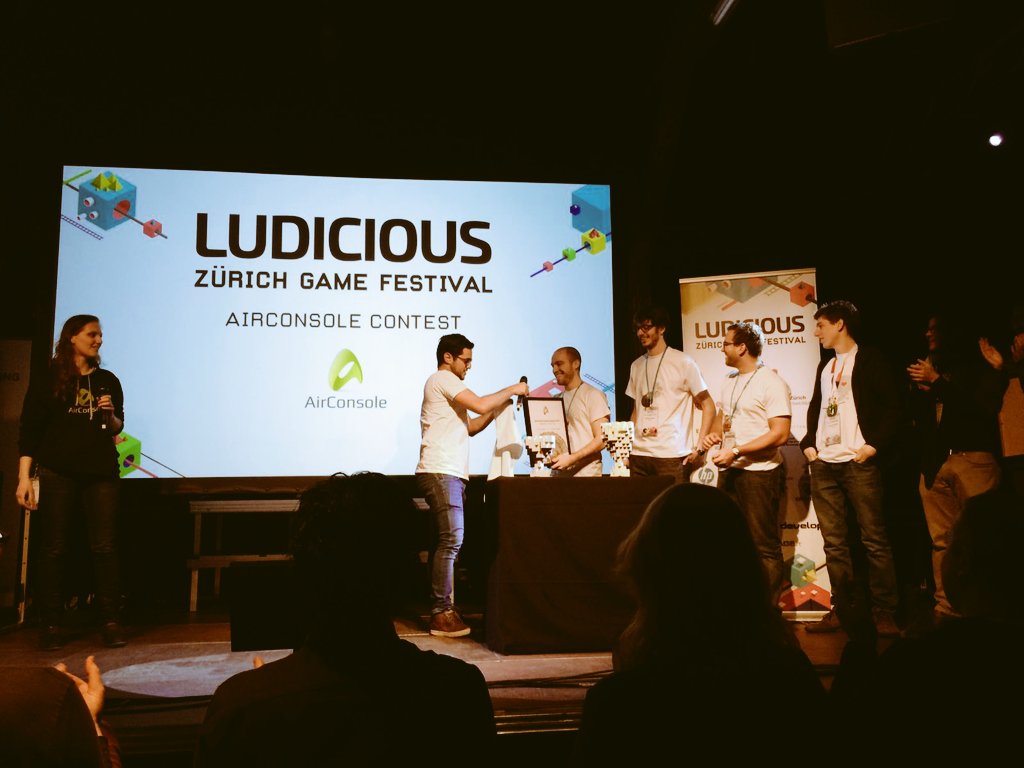 As part of Ludicious festival, we were also given the stage to announce the winners of the first AirConsole Game Developer Contest, which took place in late 2015.
First Place:
Tower of Babel by DNA Studios (pictured)
Second Place:
Grannies and Planes by Sonja Boeckler & Philipp Stern
Third Place:
shared by Mockingbirds by Max Striebel and Simoria by Dabco
We would like to once again congratulate the winners and thank all participants for submitting their games!
Global Game Jam
The Global Game Jam is an event that takes place in hundreds of locations around the world simultaneously. Thousands of game developers get together at local sites to make a game in 48 hours. A
irConsole was on location
at the Zurich game jam site dock18, where our game developer Alice made a small prototype herself and helped several groups of jam participants to make their first game for AirConsole.
But the AirConsole GGJ experience wasn't limited to Zurich: Other teams from around the globe tried out our API and plugins themselves. We are especially happy about the wonderful
Tiles of Doom
(see gif), which was almost release-ready after just two days of development and has since been very popular on our store.
View all GGJ AirConsole games
Central European Games Conference
The
CEGC
(pronounced Ceg C or 'Sexy') is a place for indie developers to show off their projects and listen to a variety of talks. AirConsole had a booth at the Indie Expo tied into the conference, where we met a lot of interested game developers, journalists and had a look into tons of fascinating game projects.
Mobile World Congress
AirConsole's CEO Andrin and game developer Alice attended the Mobile World Congress in Barcelona to exhibit AirConsole and meet potential business partners.
We were also nominated for the 'Most Innovative App' GLOMO Award!
We didn't win, maybe we're not really an 'App'. If they'd had a category of 'Best browser-based platform for local multiplayer games controlled by smartphone' however… Alas, maybe next year.
Platform
Smart TVs
Our Software Engineer François has been working hard to give Smart TV owners a chance of experiencing AirConsole. We released Apps for Android TV and Samsung TV and are currently looking into other Smart TV operating systems.
AirConsole Login
We've had an option to log into AirConsole using facebook since launch. In the meantime however, we've also added the option to set a username and profile picture by merely adding your email address.
Blog Highlights
From Prototype to Product
In case you missed it, we started our Blog with a wrap up by our CEO and founder Andrin of what happened for AirConsole in 2015.
Read
.
Making Of Karaoke
Developing our online Karaoke machine was quite the technical challenge. Andrin's post gives a look behind the scenes.
Read
.
Smartphone Controllers
We've gotten various prototypes that had interesting visuals or mechanics but didn't really work because the controls weren't optimal for touch screens. Alice put together a post of what's important to keep in mind when designing smartphone controllers.
Read
.

Press Highlights
Who wrote about us lately:
Great article about AirConsole and our presence at CEGC by Austrian website zock-around-the-clock.com (in German). Read.
AndroidCommunity about our Android TV App. Read.
Outlook
What's in store for AirConsole in the near future:
Our Game Collection that Martina and Alice are working on. Here's a short teaser.
Rafael will be at GDC in San Francisco. Wanna meet up? Let us know!
The second AirConsole Game Developer contest draws to an end. We hope to get a lot of cool new games from it and release the first ones soon!